Latest News
The Foundation Pianist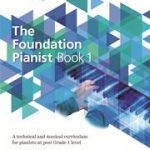 Here's a lovely review of this new series on the Pianodao website – thanks Andrew! Review
Get Set! Piano Christmas Crackers
Delighted to say that this new Christmas collection for young pianists, co-written with Karen Marshall, has now been published. More details here.
Piano Star Five-Finger Tunes
Piano Star Five-Finger Tunes has been chosen to feature in the best piano resource listing by Tutorful, a major educational website connecting tutors and students.  Read their editorial here.
New Piano Star books
My two new books in ABRSM's Piano Star series are now published: Piano Star Five-Finger Tunes: lively and fun pieces exploring different five-finger patterns. Piano Star Grade 1 (co-edited with Karen Marshall): a wide variety of pieces for players at this level. More details of both here. See videos of us launching the books at Music Expo here. Read Andrew Eales's review on his Pianodao blog here.
Bach for Violin
Kathy and I have now published this varied collection of concert pieces in new arrangements exploring the range of styles and genres found in Bach's music. Includes lively Allegros, dances, Jesu, Joy of Man's Desiring, Wachet auf, and the Bach/Gounod Meditation. Click here for details.
Piano Star
Piano Star, a three-volume collection of easy piano pieces co-edited with Aisling Greally, was shortlisted for the Best Print Resource Award at the 2017 Music Teacher Awards for Excellence.
I Believe
This piece for upper-voices was sung by the Oxford High School Junior School Choir at the GDST Junior Choir of the Year competition, at Cadogan Hall, London, March 2017. More information here